Insertable hydro pellet for heating and / or DHW heating in local 45m2 to 170m2.

Its function is to heat water circuit heating radiators, floor heating etc. DHW heating or with an external interacumulador.

The operation is fully automatic insertable and incorporates all the safety systems set out in European standards.

Its 5 power levels to adjust the heating needs and when it has reached the desired temperature, the unit switches to an operating state at minimum power or the STAND BY function is enabled the team to completely until the temperature of atmosphere back down.

The inner body is made of thick steel and all components are of proven quality for reliable, safe and excellent performance operation.

Technical data
Rated Power (Max / Min): 19.34 / 4.79 kW
Real water (Max / Min) Power: 14.68 / 3.25 kW
Real Air (Max / Min) Power: 2.67 / 1.30 kW
Yield: (Max / Min): 89.7 / 94.8%
heating capacity (Max / Min): 170/45 m2
pellet consumption (Max / Min): 3.95 / 0.98 kg / h
Autonomy (Min / Max): 8 / 32h
Pellet tank capacity: 32 kg
Boiler water content: 20 liters
Pressure: 1.5 Bar
Expansion tank: 8 liters
Fuel: Pellet Ø6mm
voltage: 230V / I / 50Hz
Power Consumption (Min / Max): 180W / 350W
Dimensions (Width / Depth / Height): 822/739 / 707mm
Weight: 150 kg
Vent: Ø100mm
Taking combustion air: Ø50mm
heating water flow and return: 3/4 "
Water inlet and discharge: 1/2 "

Constructive details
- Sober and elegant design.
- Interior thick steel Home.
- Burner and cast iron front door.
- Vitro ceramic glass resistant to 750 ° C.
- System clean glass.
- Fuel tank 32kg.
- Boca multi pellet loading position.
- Display multi multilingual function.
- STAND BY function.
- 5 Powers heating.
- Time programming (daily and weekly).
- Ambient temperature probe.
- Possibility of applying external thermostat.
- Rear flue outlet.
- Hydraulic kit included (electronic pump, glass
expansion safety valve, trap, etc.).

- DHW with external interacumulador.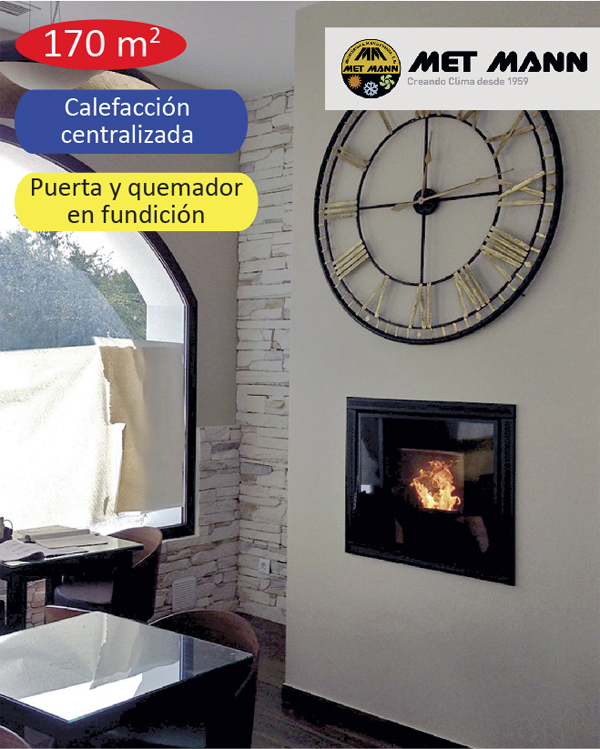 To check off or more information call Tel. +34 93 851 15 99
Download PDF Catalog
Request information