The hot water boiler LONG TIME, is designed for heating and / or domestic hot water in household or commercial sectors, and deals with pellet ENplus-A1, ENplus-A2, ENplus-B.

You can use all these qualities pellet thanks to the automatic cleaning of the burner, a mechanical scraper driven by a linear actuator and ash box large capacity allows continued use of the boiler for 30 days or the equivalent of 1,000 kg pellet, before performing the deashing of the corresponding drawer.

These features make LONG TIME boiler heating equipment with minimal cleaning interventions.

It incorporates a vertical heat exchanger with smoke retainers for yields of up to 92% and its design allows the tube bundle cleaning very easily and without tools.

The supply of the boiler consists of:

- Caldera base.
- Burner with automatic burner cleaning and 5 levels of modulation.
- Worm length of 1,87m.
- Lumberyard approximately 400 kg capacity.
- Manual and cleaning accessories.
- CE Certificate and TUV NORD.

MAIN FEATURES
- Team highly recommended for its performance, simple installation, easy cleaning and maintenance.
- Exchanger with 3-pass boiler with external cleaning and retainers.
- Possibility of using Ø6 or Ø8mm pellet.
- Cleaning the burner with selection of number of interventions and time between two cleanings.
- External ash drawer large capacity (30 days or fuel 1.000kg).
- Electrical and mechanical components of the leading manufacturers.
- Home of combustion produced in high temperature resistant steel.
- Automatic adjustment of fuel input depending on the heating value of the fuel.
- Management of the circulating pump, buffer tank, thermostat, extractor fan and weekly programmer.

- CE Certificate and TUV NORD.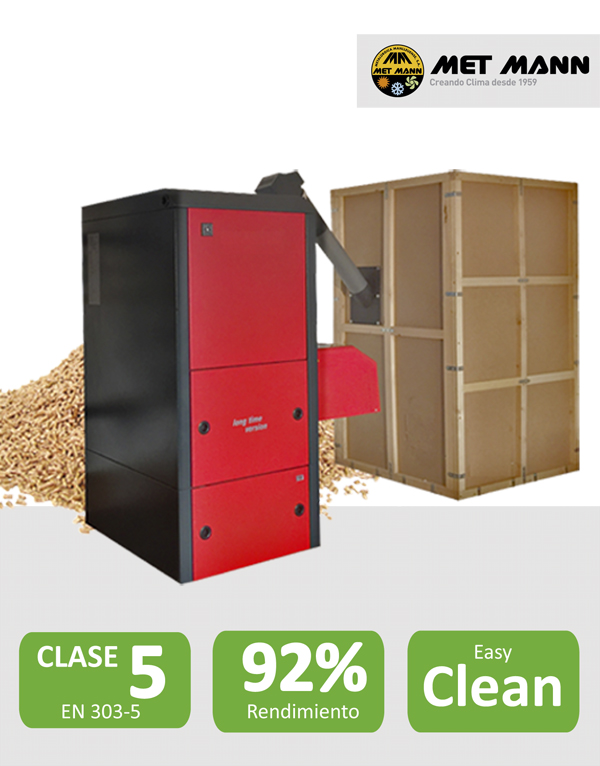 To download the technical data click on "PDF Catalog"
Download PDF Catalog
Request information