PELLETHERM pellet boiler, is designed for heating and / or domestic hot water in domestic, commercial and industrial sectors and can operate with pellet ENplus-A1, ENplus-A2, ENplus-B.

You can use all these qualities pellet, thanks to the automatic burner cleaning with a mechanical scraper driven by a linear actuator. It also has automatic extraction ash deposited in an external box. exchanger also includes a 3-step vertical smoke with an external mechanism for cleaning.

These features make the PELLETHERM boiler heating equipment with minimal cleaning interventions.

The boiler has a tank capacity 100kg pellet is prepared to apply a cornucopia or pneumatic vacuum cleaner, in the case of wanting a higher capacity external tank.

The supply of the boiler consists of:

- Boiler base supplied in two bodies.
- Burner with 5 levels of modulation and automatic cleaning of combustion grate.
- Pellet dispenser with anti backfiring system.
- Deposit of pellet capacity of 100kg.
- Exhaust Ventilation to ensure proper depression.
- Manual and cleaning accessories.
- CE Certificate and TUV NORD.

MAIN FEATURES
- Team highly recommended for its performance, simple installation, easy cleaning and maintenance.
- Exchanger with 3-pass boiler with external cleaning and retainers.
- Possibility of using Ø6 or Ø8mm pellet.
- Cleaning the burner with selection of number of interventions and time between two cleanings.
- External ash drawer large capacity (30 days or fuel 1.000kg).
- Electrical and mechanical components of the leading manufacturers.
- Home of combustion produced in high temperature resistant steel.
- Automatic adjustment of fuel input depending on the heating value of the fuel.
- Management of the circulating pump, buffer tank, thermostat, extractor fan and weekly programmer.

- CE Certificate and TUV NORD.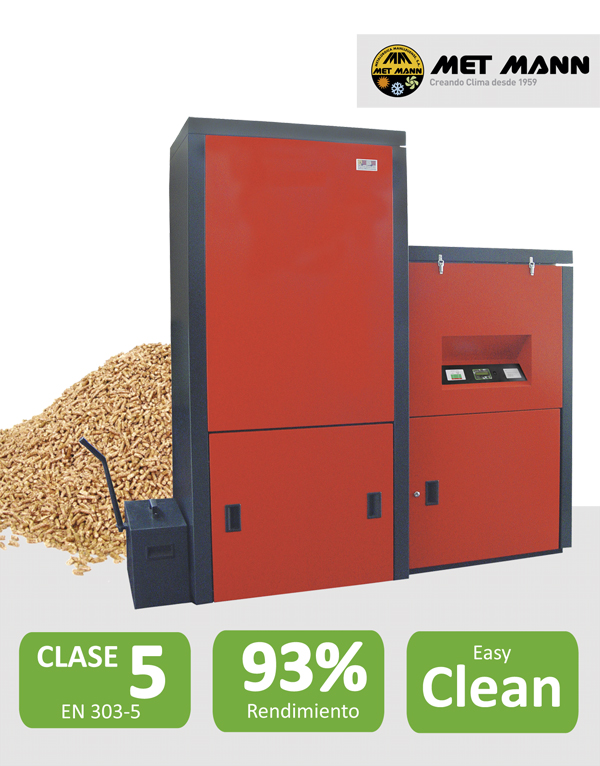 To see technical data click on "catalog" or call Tel. +34 93 851 15 99
Download PDF Catalog
Request information