The combination boiler with wood and pellet operation SAVER COMBI, designed to heat water in heating circuits and / or domestic hot water.

Its yield of 91% with pellet operation and 86% with firewood operation has been achieved by applying a high vertical exchanger three double gas flues and combustion air inlet. Power regulation firewood, is done with a chain regulator, responsible for opening or closing the combustion air inlet, depending on water temperature.
The operation is fully automatic or pellet is the computer boots, or modulates, depending on water temperature or by the signal sent by other external elements, such as a thermostat.

The use of a fuel or another is as simple as changing the door and change the position of casting grills and ash drawer. This modification does not entail more than 5 minutes and allows us to have a combination boiler with performance and price very interesting.

Cleaning and maintenance of the boiler SAVER COMBI is another of its main virtues, ease of access to areas of intervention and not require specific tools greatly facilitate these tasks.

The supply of the boiler consists of:
- Caldera basis - temperature controller with chain - 80kg pellet tank - automatic pellet burner, worm - Operating instructions - Cleaning accessories - CE certified.

MAIN FEATURES
- Team highly recommended for its performance, simple installation, easy cleaning and maintenance.
- Fully automatic pellet burner in the ignition phases, modulation, off, etc.
- Ability to manage the circulation pump, room thermostat, weekly timer, GSM module, etc.
- Vertical heat exchanger with three steps smoke.
- Load of firewood from the top to maximize combustion home and get a range of up to 5 hours.
- Grills casting with external stirrer to remove the accumulated embers.
- Chain regulator to adjust the combustion air inlet, depending on the water temperature.
- Combustion chamber and heat exchanger made of steel resistant to high temperatures.
- Thermal insulation to prevent heat loss.

- Equipment with CE certificate and compliance EN 303-5.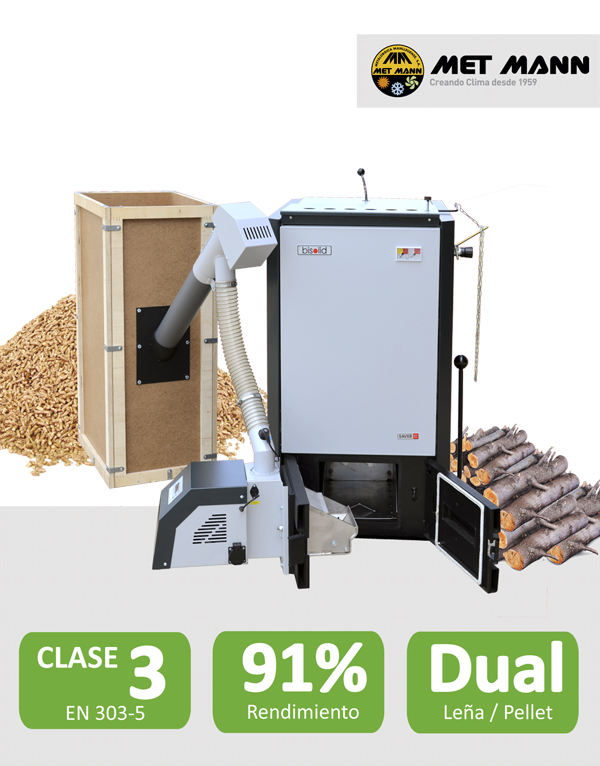 For further technical data download "catalog"
Download PDF Catalog
Request information