Wood-burning boiler designed for heating water in heating circuits and / or domestic hot water.

Its excellent yield of 86% was achieved by applying a high vertical exchanger three double gas flues and combustion air inlet. Power regulation is effected with a regulator static thermos chain handles open or close the entry of primary combustion air, depending on the water temperature.

The load of wood is carried by an upper door which gives access to a wide combustion furnace that we can accommodate a lot of firewood and lengthen the time between charges, with a range of up to 5 hours if the conditions are optimal (type of wood, humidity, adequate power boiler installation, etc.).

Cleaning, is another of the main features of the SAVER WOOD, access to the heat exchanger is as simple as lifting the rear upper cover and with a wire brush, supplied as standard, scrape the inside of the tubes in order to removing encrustations that decrease computer performance. The ashes produced by combustion, are deposited in a drawer easy ash removal, by the front door. All these tasks do not require any specific tool and greatly facilitate the cleaning and maintenance of equipment.

We recommend that the installation of the boiler, either with a buffer tank (25 liters / kW) to take 100% of the energy and install a safety valve to prevent overheating of the boiler water.

The supply of the boiler consists of:
- Boiler - Temperature controller chain - Operating instructions - Cleaning accessories - CE certified.

MAIN FEATURES
- Team highly recommended for its performance, simple installation, easy cleaning and maintenance.
- Vertical heat exchanger with three steps smoke.
- Load of firewood from the top to maximize combustion home.
- Home combustion of large capacity for greater autonomy of operation between charges.
- Grills casting with external stirrer to remove the accumulated embers.
- Chain regulator to adjust the combustion air inlet, depending on the water temperature.
- Combustion chamber and heat exchanger made of steel resistant to high temperatures.
- Thermal insulation to prevent heat loss.
- You can use wood, agricultural residues, branches, pods, industrial waste wood, briquettes, etc ..

- Equipment with CE certificate and compliance EN 303-5.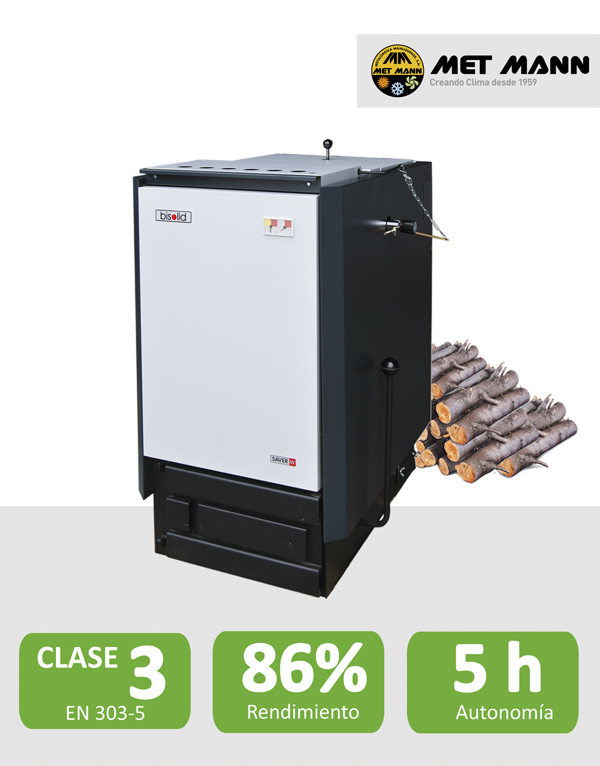 Technical data for consular click on "DOWNLOAD PDF CATALOG"
Download PDF Catalog
Request information