Pellet stove canalized slim PELLET AIRE SLIM 12 C for heating 46m2 to 120m2 premises.

This model has a depth of only 34cm and vent can be at the top, back or side.

It incorporates two completely independent and adjustable push fans that allow warm air in the room where the equipment is installed and by a rear pipe heat other housing units.

Its 5 power levels to adjust the heating needs and when it has reached the desired temperature, the unit switches to an operating state at minimum power or the STAND BY function is enabled the team to completely until the temperature of atmosphere back down.

The inner body is made of thick steel and all components are of proven quality for reliable, safe and excellent performance operation.

VIDEO OPERATION


Technical data
Rated Power (Max / Min): 14.3 / 5.4 kW
real power (Max / Min): 12.2 / 4.63 kW
Yield: (Max / Min): 85.1 / 85.6%
heating capacity (Max / Min): 120/46 m2
pellet consumption (Max / Min): 2.94 / 1.11 kg / h
Autonomy (Min / Max): 8 / 21h
Pellet tank capacity: 24 kg
Fuel: Pellet Ø6mm
voltage: 230V / I / 50Hz
Power Consumption (Min / Max): 130W / 350W
Dimensions (Width / Depth / Height): 877/340 / 1079mm
Weight: 100 kg
Smoke outlet: Ø80mm
Output pipe: Ø80mm
Taking combustion air: Ø35mm

Constructive details
- Sober and elegant design 34cm deep.
- Includes two air fans with independent regulation.
- Burner and casting front door.
- Vitro ceramic glass resistant to 750 ° C.
- System clean glass.
- Fuel tank 24kg.
- Ash pan large capacity.
- Display multi multilingual function.
- STAND BY function.
- 5 Powers heating.
- Remote control included.
- Time programming (daily and weekly).
- Ambient temperature probe.
- Possibility of applying external thermostat.
- Output top, rear or side fumes.

- Output back channeling.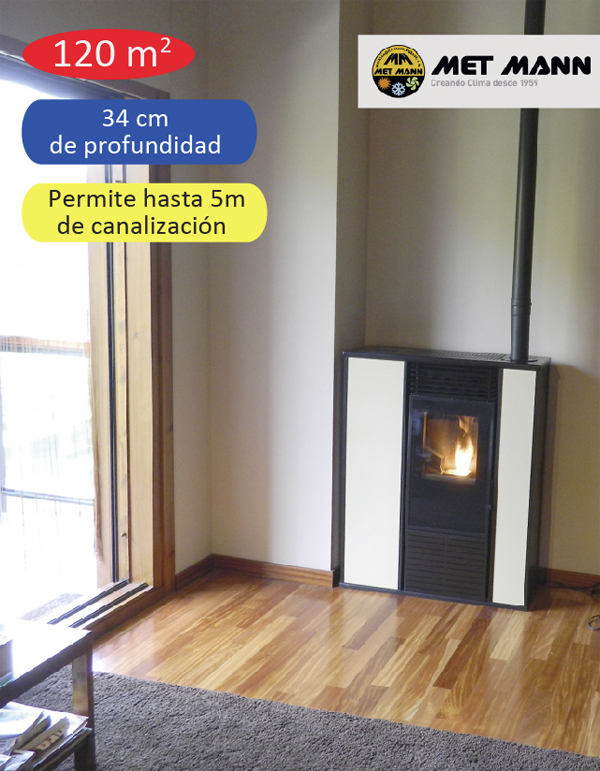 To consult discounts or additional information contact Tel. 93-851 15 99
Download PDF Catalog
Request information