Hot water boiler designed for heating and / or domestic hot water in domestic and commercial sectors.

The equipment incorporates an external handle that allows cleaning of the burner grate without access to the combustion chamber.

This feature along with its heat exchanger 3 gas flues upright, make BISOLID MARIO boiler heating equipment requiring minimal interventions cleaning.

The heat exchanger upright incorporates smoke retainers for yields of 92% and its design allows for easy cleaning, without the use of tools.

The supply of the boiler consists of:

- Boiler.
- Automatic burner with external cleaning system.
- Worm length of 1,52m.
- Lumberyard of 80 kg capacity.
- Manual and cleaning accessories.
- CE Certificate and TUV NORD.

MAIN FEATURES
- Exchanger 3 gas flues with retainers.
- The fuel used must be Ø6mm pellet ENplus-A1.
- Cleaning the burner with external handle for easy cleaning.
- Ash pan.
- Electrical and mechanical components of the leading manufacturers.
- Home of combustion produced in high temperature resistant steel.
- Easy adjustment of thermal power with a wide operating range.
- Termo stickers that warn of excessive dirt inside the boiler.
- Management of the circulating pump, buffer storage, room thermostat, extractor fan and weekly programmer.
- Supply of the boiler with the burner on the left or right.

- CE Certificate and TUV NORD.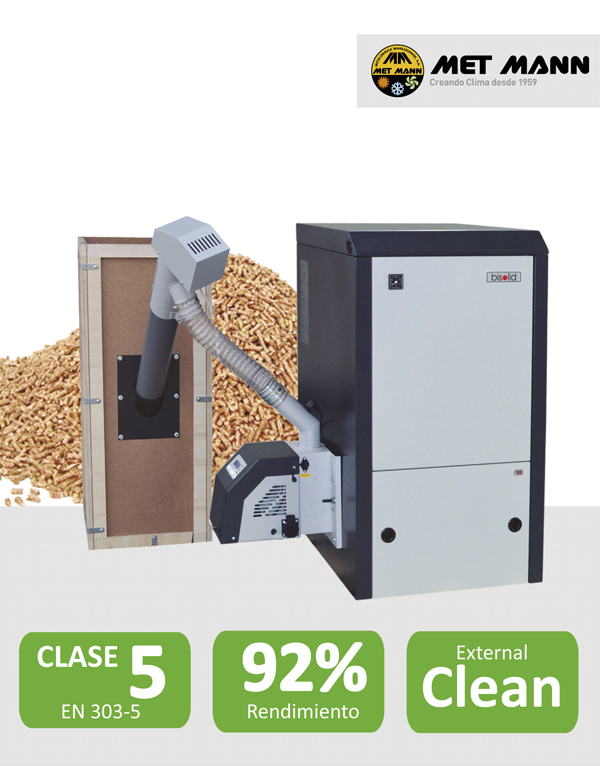 More technical information on "Download catalog PDF"
Download PDF Catalog
Request information