Silent pellet stove model SILENT PELLET AIR 7 is intended for heating domestic premises and / or trademarks of 22m2 to 68m2.

The main feature is its extremely quiet operation and automatic burner cleaning prolongs the cleanup to approximately 30 days.

The stove operation is fully automatic and incorporates all the safety systems set out in European standards.

Its 5 power levels to adjust the heating needs and when it has reached the desired temperature, the unit switches to an operating state at minimum power or the STAND BY function is enabled the team to completely until the temperature of atmosphere back down.

The inner body is made of thick steel and all components are of proven quality for reliable, safe and excellent performance operation.

Technical data
Rated Power (Max / Min): 8.0 / 2.6 kW
real power (Max / Min): 6.8 / 2.2 kW
Yield: (Max / Min): 85/85%
heating capacity (Max / Min): 68/22 m2
pellet consumption (Max / Min): 1.68 / 0.54 kg / h
Autonomy (Min / Max): 10 / 31h
Pellet tank capacity: 17 kg
Fuel: Pellet ě6mm
voltage: 230V / I / 50Hz
Power Consumption (Min / Max): 80W / 350W
Dimensions (Width / Depth / Height): 550/545 / 1110mm
Weight: 107 kg
Smoke outlet: ě80mm
Taking combustion air: ě40mm

Constructive details
- Sober and elegant design.
- Natural convection and heat radiation.
- Equipment extremely quiet.
- Automatic cleaning of the burner (patented).
- Interior thick steel Home.
- Burner and casting front door.
- Vitro ceramic glass resistant to 750 ░ C.
- System clean glass.
- Ash pan large capacity.
- Display multi multilingual function.
- STAND BY function.
- Remote control.
- 5 Powers heating.
- Time programming (daily and weekly).
- Ambient temperature probe.
- Possibility of applying external thermostat.

- Output top or rear flue.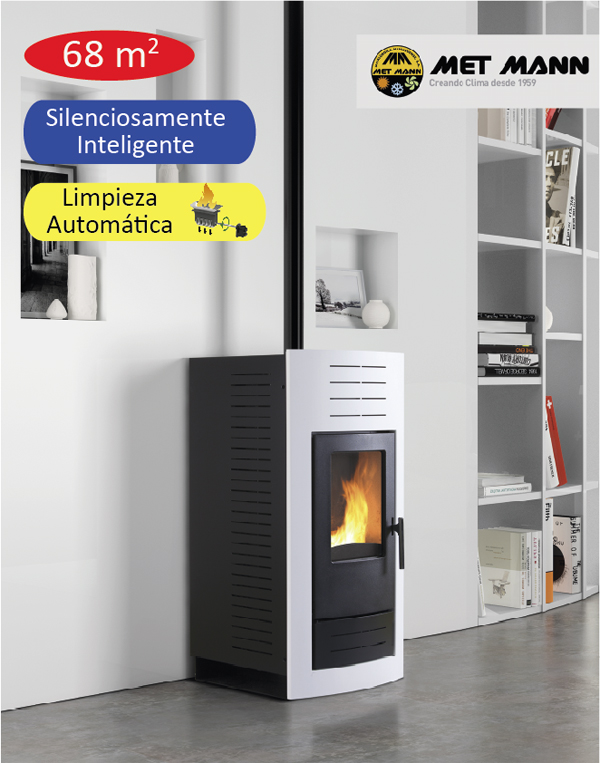 Discount for consultation or more information call Tel. +34 93 851 15 99
Download PDF Catalog
Request information