Infrared heating systems have revolutionized the way of heating spaces. Know its advantages and differences with the traditional ones.Domestic, commercial and industrial infrared heating
Infrared heating

is a heating system that works by infrared waves (radiant heat). These heat people and / or objects directly without heating the air.

This thermal emission technology is one of the least known and popular. Its operation is very curious
Differences between infrared heating and conventional heating

The main difference of

infrared heating

with respect to conventional heating systems is that it heats the air from the bottom up. Most heaters heat the space using air as a heat transition. This causes the heat to rise to the ceiling and away from the area where we are, losing part of its effectiveness. As a consequence, we have to reheat the air and consume more energy.


In

infrared radiation heating

, heat is not transmitted through air, but through waves. We speak of radiant heat, which accumulates on the floor, on the ceiling and on the walls and slowly detaches itself in a process similar to that of the Sun when it warms the Earth.


Convection heating systems are slower systems with large stratifications of air, especially in high places. Thus, infrared radiation heating directly affects people and objects as well as being completely silent.


Below, we see an example of

radiation heating

and

convection heating

systems.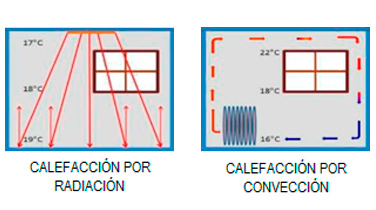 What advantages does infrared radiation heating have?

The main advantages of infrared heating are the following:
Easy installation
You only need an electrical connection socket and place the equipment if it is fixed installation. In the case of operating with
infrared panels
, these are placed on the walls or ceiling to act as conductors of heat. Whether outdoors or indoors, infrared heating should always be installed in this way for optimal operation.
As for the connection to the mains, the only thing we have to take into account when installing it is that there is a power outlet nearby
.
Energy saving
Betting on an
infrared heating system
will allow us to save energy and, therefore, money. Other factors, such as the facade′s own insulation, influence this saving, but in general they are equipment that considerably reduces consumption.
Many argue that infrared heating is slower and less powerful than traditional, hence its lower consumption. However, it is an ideal option to heat small spaces and maintain the temperature, since it directly heats the materials (and not the air).
In places where temperature conditions are not especially cold, you can take advantage of this type of facility.
Totally silent

Electric infrared heating does not use any movable components, such as fans or turbines. Therefore, it is totally silent.
More security
This type of heating does not need any type of fuel to work, so there are no risks of explosions. Not using combustion does not generate any type of gas or smell. In addition, infrared heating gradually heats and does not reach exaggerated temperatures. This makes it impossible for any fire or burn to occur..
Better for your health
Infrared waves only transmit heat; It is a totally healthy system and suitable for people with breathing problems. There are cases in which conventional heating can aggravate these problems. This does not happen with infrared heating.

Myths of infrared heating
Being a relatively unknown technology, there are still some myths about this type of heating. One of the most widespread is that they always emit red light ... or that all stoves that emit red light are infrared heating. Big mistake.
Long-wave infrared heating does not produce any type of light. The shortwave could emit red light or not, but it does not depend on the system, but on the way of transmitting the heat. Old electrical resistors heat the surrounding air (what is known as 'convection'). However, infrared heating produces heat directly on the materials or bodies on which it falls. So heat is used only where it is needed and does not disperse in the environment, making possible the savings we talked about before
.
Our infrared heating systems
In MET MANN we have made a selection of infrared electric heating equipment to cover all types of needs, whether domestic, commercial or industrial.
The main models that you can find in our catalog are the following:
INFRA MANN P infrared heating system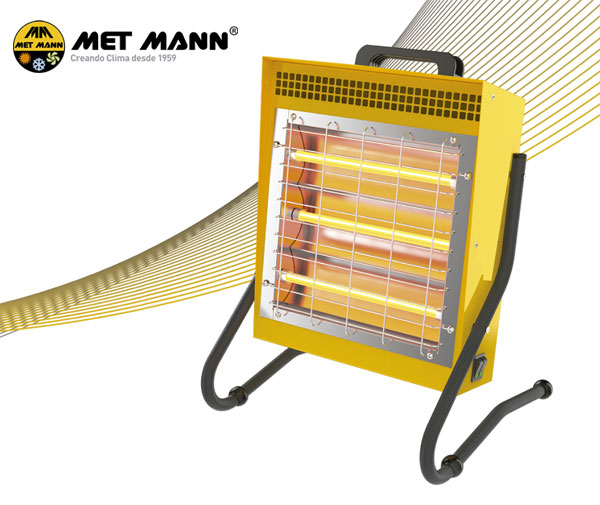 This portable infrared heating equipment (0.5-1-1.5 kW) is ideal for direct and rapid heating of work areas. Its structure is made of steel and has holes through which the heat dissipates by natural convection.

It is equipped with a total of 3 infrared quartz lamps that cause heat to be transmitted more quickly, using short-range infrared waves.

One of the added advantages of this equipment is its removable supports and its comfortable handle, which greatly facilitates transport. In addition, this infrared electric heating system can be mounted on the wall with a suitable support.

It can be used outdoors (except in the rain) and has a degree of protection against moisture and dust IP24. Its two switches allow 3 different heating powers to be activated (0.5kW-1kW-1.5kW) and the older one has an anti-tip security system. Thus, if the heater moves from its natural position, the electrical voltage will be automatically disconnected.

If you work in an automotive, construction or industry workshop in general, this infrared heating equipment guarantees you unbeatable results. It is also ideal for quick defrosting of pipes or mechanisms, as well as for drying painted surfaces.
INFRA MANN M infrared electric heating equipment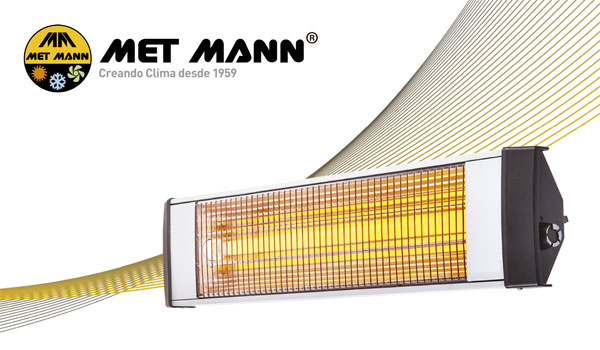 A wall type infrared heating equipment of our INFRA MANN series. It has many applications, both for closed and semi-open premises where a system that provides heat is needed quickly, without noise or odors. It is available in mural or with 3 kW support foot.
This infrared heater can be installed on virtually any surface. It is equipped with several brackets and thumb screws that allow installation without using additional tools. It also offers the possibility of installing it with a telescopic support that allows it to be easily transported from one side to the other.
To avoid overheating, the system has a steel body with convection cooling system. In addition, its chromed steel grid prevents unintentional contact with the infrared lamp and guarantees safety.
One of the strengths of this infrared heating equipment is its reflector, equipped with a special finish to achieve uniform heat distribution throughout the heating area. But this is not all: when older, it incorporates an ambient thermostat to start and stop it depending on the temperature we want to achieve.
INFRA MANN T infrared heating equipment

This model of the INFRA MANN T series allows direct heating and heat transfer in any condition. Optimal even for negative temperatures or wind, it is mainly used to heat industrial and storage premises or even hangars, exhibition halls, gyms, workshops, semi-open areas, construction spaces ...
It is a very powerful infrared heating equipment, with long wave tubular electric heating elements that are what allow heat transfer in any thermal or meteorological condition.
Its installation can be done directly on the ceiling or on the wall angularly. This ensures uniform heating from different angles. It is made of stainless steel mirror type, a highly heat resistant material that also does not darken over time. Its initial effectiveness is assured throughout the entire life of the equipment.
The installation of this infrared heating system can be carried out at a minimum height of 4m and a maximum of 20m.
Infrared heating equipment INFRA MANN WIFI

Radiant system (without light emission) for 1.8 kW wall or ceiling installation, with WIFI connection. This infrared electric heating equipment with long wave radiant panels is a clean solution, without noise and without light emission, very economical and easy to use.
Its design is aesthetic without sacrificing efficiency: the heat radiated from the panel surface is absorbed directly by the body to be heated (people, walls, floors, furniture ...). In addition, being a type of infrared heating, heating does not cause air movement and allows it to remain completely clean.
Another of its advantages is energy savings compared to other traditional heating systems. Its high heat generation and its excellent distribution allow it to be used with less power than other alternatives.
It has 4 power levels so you can adapt it to every moment and need. It can be selected from the device itself or with an LCS remote control for superior comfort. It also incorporates the Fast Hot function, with which the equipment will operate at maximum power for a certain time to heat in record time. You can program the operating hours and even connect to a Wi-Fi device. Through the Tuya Smart application, you can control the temperature of the infrared heating and its operation remotely from anywhere.
If you want more information about our infrared heating systems or have any questions about this technology, contact us through the web form or call us at +34 93 851 15 99. We will be happy to help you.