There are several types of portable heating systems to solve the different needs that your company may have. In this post we will go into detail about the different options and the most frequent applications of portable industrial heating equipment that we offer at MET MANN
What type of fuel to use in industrial portable heating equipment?
As a preliminary step to selecting the most suitable type of portable heating for your business, select the type of fuel that we are going to use.
At MET MANN we have a wide range of portable heating equipment with diesel, butane or propane gas, diesel or electric operation.
AM - Portable diesel or gas heating equipment
Our AM equipment can run on diesel, natural gas or propane gas and have a calorific power of 46 to 180 kW. This type of equipment is frequently used in areas such as greenhouses, event tents and factories or industrial facilities in general.

By means of high air flows, they allow heating premises from 200 to 600m2 with the use of a single unit in a very short time.


For its installation, it only requires a smoke outlet, electrical supply and an attached fuel tank. In addition, these equipments allow the use of air ducts inside the enclosure to help the heating process.
From this link you can access its technical sheet.
AN - Portable diesel heating equipment with chimney
These units are ideal for heating closed spaces, as they have a smoke outlet. They have a calorific power that can range between 34 and 90 kW, incorporate a fuel tank and allow heating rooms of 150 to 300m2 quickly and efficiently.

They are totally practical and flexible equipment, since for their installation, they only require a smoke outlet and electrical supply.

Its application is especially recommended for event tents, temporary heating, drying processes, etc.

You can use this link to access its main features.

MI - Portable diesel heating units without chimney
Like the previous version, these teams can run on diesel and their calorific power ranges from 38 to 111 kW. Its application is not possible in closed spaces without ventilation, as it does not have a chimney, since the hot air provided mixes with the combustion gases.

That is why its use is recommended for properly ventilated spaces such as farms, greenhouses and other outdoor spaces.

These equipments incorporate a fuel tank and allow heating premises from 150 to 300m2 and can be controlled by a thermostat that activates or deactivates the equipment depending on the ambient temperature.

These teams have small dimensions and great mobility, for their installation they only require electrical power.

In its technical sheet you can know all its advantages.
RP Profesional - Portable electric heating equipment
The models in the Met Mann RP Professional range are electrical equipment that can operate with single-phase or three-phase voltage depending on the model.

Their calorific power range works between 3 and 30 kW and they are ideal for heating or drying processes in premises of 30 to 200m2. All models have a thermostat that regulates the operation of the equipment taking into account the ambient temperature and that helps to reduce the energy consumption of the equipment.

At MET MANN we have 5 different versions in the RP Professional range, you can access the catalog from here.

KA - Portable Butane or Propane Gas Heating Equipment
The KA series of portable heating systems from Met Mann includes equipment that can run on butane or propane gas with a calorific power from 15 to 100 kW and allow to heat properly ventilated premises from 200m2 to 800 m2.

Its installation only requires an electrical supply and connection to a butane or propane gas bottle.

As it does not have a smoke outlet, its application must be limited to open spaces in the open air. Therefore, its use is recommended for properly ventilated premises such as farms, greenhouses, gardens, etc.

More information and technical data sheet of the Ka series by Met Mann at this link.

GW - Portable gas heating equipment without electricity
These systems are ideal for outdoor applications, since they are equipment that can operate on butane or propane gas with a large calorific power (15 to 31 kW), that operate without the need to be powered by electrical current and that also incorporate a security system anti fall.
Its use is for open spaces where a heat source is required, such as markets, outdoor works or properly ventilated areas without the influx of children to prevent them from touching the hot parts of the equipment.
You will find the technical sheet of this model in this
link
INFRA MANN P - Portable infrared heating equipment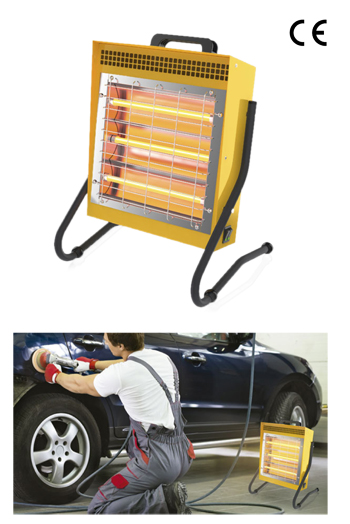 When the space to be heated does not require air movement and it is sought to eliminate the noise of the fans, Infra Mann P equipment is the solution.
These devices have 3 infrared quartz lamps that manage to heat the environment effectively using short-range infrared waves.
They are electrically operated equipment to relieve cold in any situation that does not require a high power system. That is why its use is especially recommended for heating nearby areas.
Discover our portable infrared heating solutions in the product sheet through this
link
.
The portable heating solution you need is at MET MANN
If you need expert advice, do not hesitate, contact our commercial department at Tel. +34 93 851 15 99