High flow industrial roof extractor for the extraction of stale air

HELIX BOX MANN industrial roof extractors have an extraction capacity from 20,700 m3/ h to 36,700 m3/h and are the perfect solution for the extraction of stale air in industrial buildings, warehouses, farms, greenhouses, etc.

The equipment consists of a structure made of galvanized steel and incorporates a helical fan with overpressure shutter with an automatic opening system.

In addition, it incorporates supports designed to adapt to any type of roof slope and an anti-rain visor.

The supply is made with several disassembled components to be assembled on site.



Main features
- Air flow from 20,700 m3/h to 36,700 m3/h
- External structure made of galvanized steel.
- Overpressure shutter made of galvanized steel.
- Propellers made of AISI 430 BA stainless steel.
- High quality bearings.
- IP-55 three-phase electric motor
- V-belts.
- Transmission pulleys made of magnesium aluminum.
- Engine support with tensioner.
- Roof supports.
- Air inlet with protection grid.
- Anti rain visor.
Calculation for air extraction
To calculate the m3/ h necessary for air extraction depending on the premises or activity, the m3 of the premises must be calculated and the number of renovations applied based on the following table.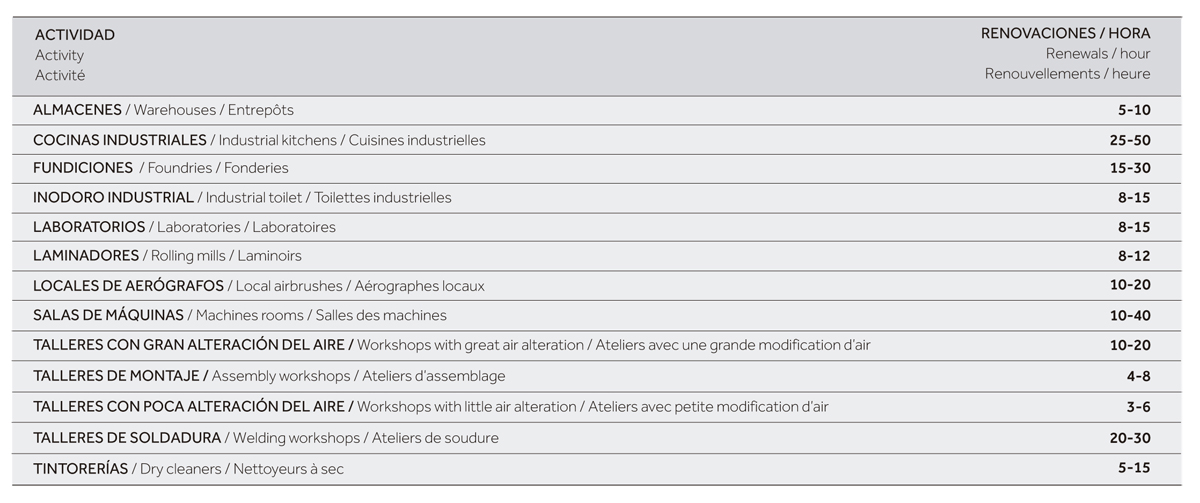 Installation example

Data sheet



More information on Tel. +34 93 851 15 99
Download PDF Catalog
3D Sketchup
Request information