Industrial air curtains VIS MANN


The industrial air curtains are a ventilation system used in doors or separations of diaphanous industrial buildings to create an air barrier and thus prevent the entry of cold air in winter and hot air in summer.

With the use of air curtains, significant energy savings are obtained in conventional air conditioning systems.

MET MANN, has a range of VIS MANN industrial air curtains that can be supplied for ventilation only and with heating (electric resistances or with water battery).

The range is composed of 4 types of fans that provide a flow rate of 1,990 m3 / h to 4,250 m3 / h and allow to handle doors from 1.20m to 2.5m wide and 2.5m to 5m high.

For higher widths, more than one curtain can be installed.

Characteristics:
- 3-speed centrifugal fan with protection grid.
- Air diffuser designed to treat the maximum possible surface with a high air pressure.
- Wall support that allows orientation of air diffusion at 45ºC
- Models with heating can be supplied with electric heaters or with a water battery.
- As accessories we have remote controls ON-OFF and 3 speeds, room thermostat, control interface of up to 4 curtains, etc ...

Example of installation:
Industrial building with two areas, one of them heated and with air curtains to avoid losing the heat of one of the ships.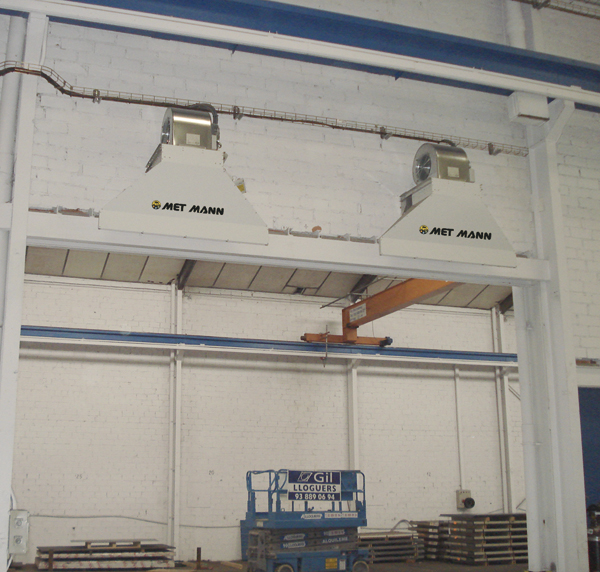 Energy savings
You can download the following pdf that explains the energy savings achieved with the air curtains VIS MANN

Download our general catalog in pdf in this link:



Download PDF Catalog Request information