Industrial warm air heater with diesel or gas operation from 26 to 500 kW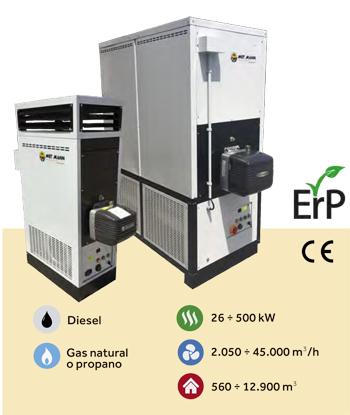 The MM hot air generators are indirect heating type equipment (the hot air does not mix with the combustion gases) and they work completely autonomously.
They do not need additional elements for heat dissipation, a fact that reduces acquisition, installation and maintenance costs.
Its operation is based on the heating of a certain air flow, through the combustion of diesel, natural gas or propane gas. Said flow is aspirated and driven by the fans that the equipment incorporates and that comply with the ERP 2020 regulations.
The main advantages over other heating systems are:
- Reduction of acquisition and installation costs
- Very fast heating system
- Air diffusion can be direct or a duct network can be applied
- 90% combustion efficiency
1) Hot air generator with air supply grilles
2) Hot air generator with rotating nozzles
3) Hot air generator with duct and rotating diffusers.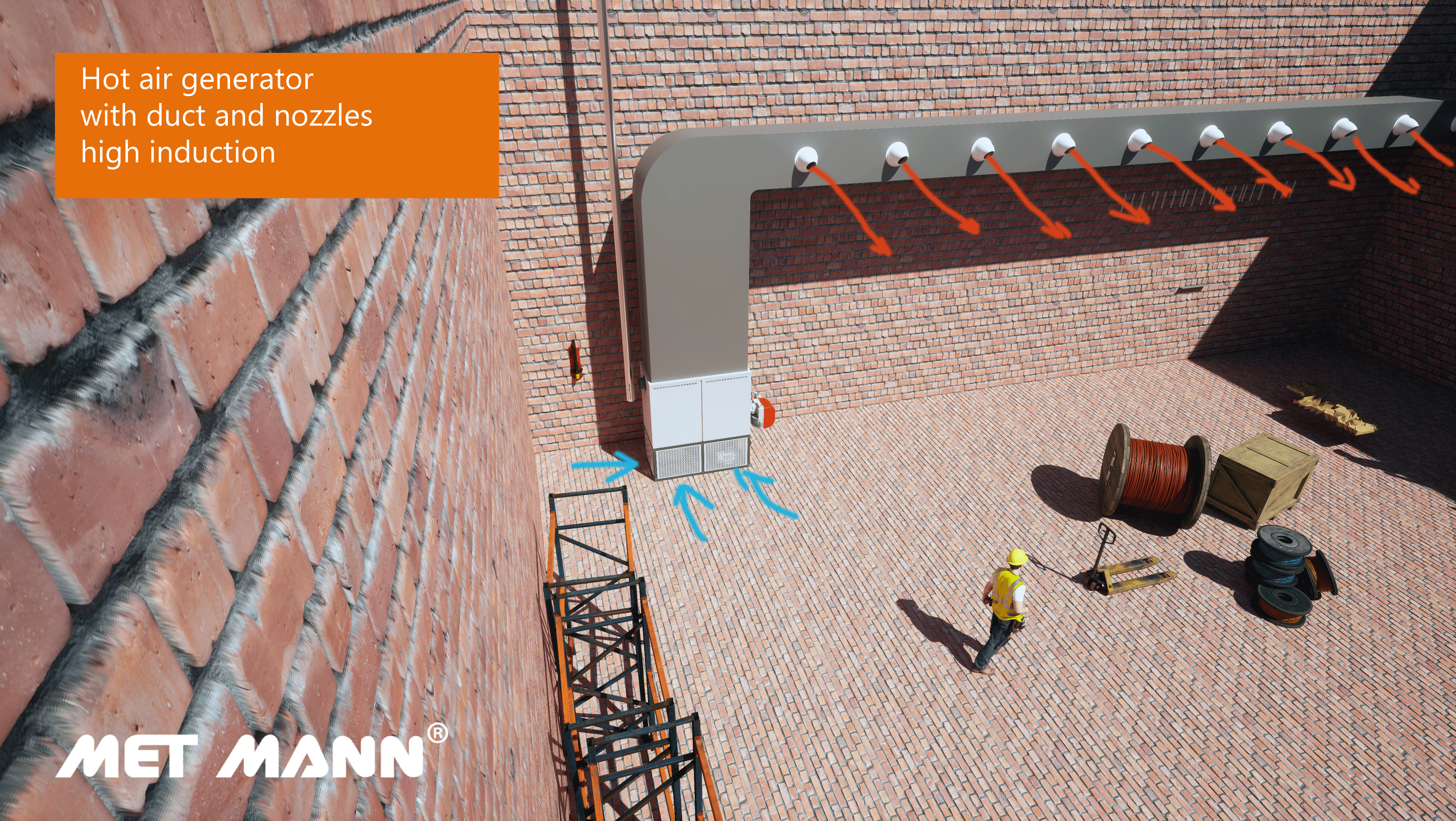 - High performance combustion oven made of AISI-430 stainless steel in the areas most exposed to heat
- Outer panel made of galvanized steel lacquered in polyester powder and oven dried
- Thermal insulation of the areas most exposed to heat
- Centrifugal fans with low noise level
- IE3 high efficiency electric motors
- Electrical control and safety panel according to European regulations
- Control thermostats (Fan / Burner / Thermal safety)
- Room thermostat
- Security system to control the correct depression of the combustion chamber.
- Hot air outlet from the upper part, in which you can install grilles for the air outlet on 4 sides, rotating air supply nozzles or directly coupled to a duct network.
Allowed fuels:
- Diesel oil
- Natural gas
- Propane gas
26 to 500 kW
2.050 to 45.000 m3/h
560 to 12.900 m3
Commercial, industrial heating, greenhouses, farms, drying processes, etc.
More information on Tel. +34 93 851 15 99