Drying processes with hot air generators fully configurable in flow and air pressure

AGM hot air generators are heating equipment or for low or high temperature drying treatments.
Its design allows all types of low, medium or high pressure fans to be applied according to the needs of each installation.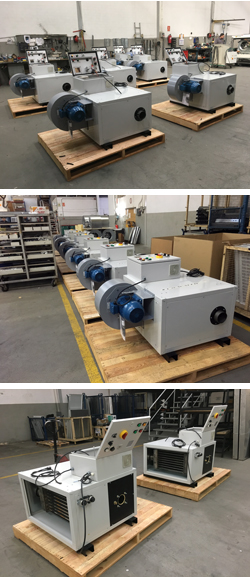 Main features:

- Fully compact and robust equipment.
- Tubular exchanger with a yield greater than 90%.
- External finish in oven-dried polyester paint.
- Thermal insulation by means of an air chamber and / or fiberglass.
- Possibility of supply with low, medium or high pressure centrifugal fan.
- Electrical panel and built-in room thermostat.
- Front air outlet with air diffusion grid or to connect to ductwork.
Fuels Supported:

- Diesel oil.
- Natural gas.
- Propane gas.
43 a 145 kW
3.500 to 11.000 m3/h
Heating capacity:

990 to 3.115 m3
Industrial premises, drying processes, greenhouses, farms, etc.

More information on Tel. +34 93 851 15 99

Download PDF Catalog
Request information