Industrial drying processes with hot air generators for post-harvest treatment of fruits and vegetables, paint booths or industrial drying processes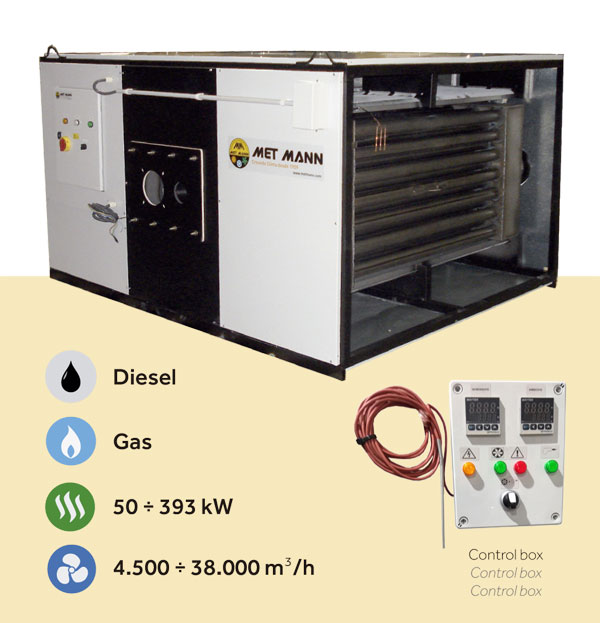 Our hot air generators for industrial drying processes can run on diesel or gas and develop a heat output of 50 to 393 kW.

The hot air contributed to the drying process has a thermal jump of 18 ░ C to 30 ░ C and a large supply of air for quick drying without altering the physical properties of the product.

For another type of drying where more temperature is required we can perform a specific study.

The range consists of different models with thermal jumps, flow rates and air pressures suitable for any type of drying.

MM-H Thermal jump of 28-30 ░ C with available air pressure from 110 to 270 Pa.
MM-W Thermal jump of 28-30 ░ C with available air pressure from 140 to 270 Pa.
CP Thermal jump of 18-20 ░ C and available air pressure from 160 Pa to 280 Pa.



Main features:

- Fully compact and robust equipment.
- Tubular exchanger with a yield greater than 90%.
- External finish in oven-dried polyester paint.
- Thermal insulation by means of an air chamber and / or fiberglass.
- Centrifugal fan group with one or two turbines depending on the model.
- Electrical switchboard and protection according to European standards.
- Air outlet to the left or right side according to the needs of the installation.
- Possibility of manufacturing custom equipment according to technical specifications (air flow, pressure, thermal jump, ATEX motors, etc.).


Fuels Supported:
- Diesel oil.
- Natural gas.
- Propane gas.


Available powers:
50 to 393 kW


Airflow:
4.500 to 38.000 m3/h


Applications:
Industrial drying processes, varnish drying, paint booths, food sector, etc.

More information on Tel. +34 93 851 15 99

Download PDF Catalog
Request information