Hot air air heaters with gas operation from 23 to 34 kW

K-gas hot air air heaters are devices that operate completely autonomously, that is, they do not need heat-dissipating elements, which reduces acquisition and installation costs.

Its operation can be methane gas or propane gas and its operation is based on heating the air sucked by the fans and driving the hot air inside the room to be heated.
The main advantages over other heating systems are:
- They do not take up space on the floor.
- Reduction of acquisition and installation costs.
- Very fast heating system.
- The diffusion of the air can be direct or a network of ducts can be applied to channel the air in adjacent areas where the equipment has been installed.
- Combustion efficiency greater than 90%.
Equipment installed in a gym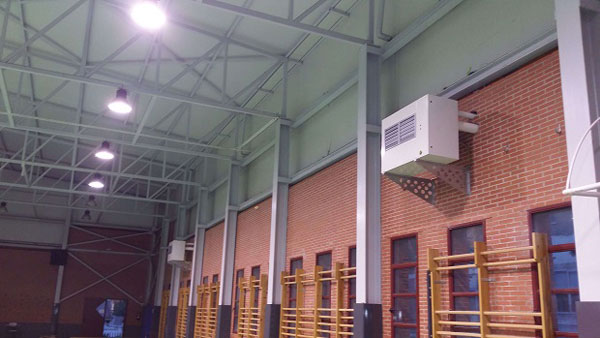 Main features:
- Fully compact and robust equipment.
- Tubular exchanger with a yield greater than 90%.
- External finish in oven-dried polyester paint.
- Thermal insulation by means of an air chamber and / or fiberglass.
- Waterproof combustion with smoke extraction regardless of air intake.
- Atmospheric gas burner for natural gas or propane gas.
- Supply with helical or centrifugal fan.
- Remote control panel ON / OFF with built-in room thermostat.
- Front air outlet with air diffusion grid or to connect to ductwork.
Fuels Supported:
- Natural gas.
- Propane gas.
Available powers:
23 to 34 kW
Airflow:
1.700 a 2.450 m3/h
Heating capacity:
495 to 840 m3
Applications:
Industrial premises, gyms, warehouses, greenhouses, farms, drying processes, etc..
More information on Tel. +34 93 851 15 99

Download PDF Catalog
Request information