Fume extractor designed for smoke extraction in fireplaces that do not have proper depression and introduce smoke inside the house or equipment malfunction is observed.

Installation must be on deck and recommended minimum height from the base of the fire is 2m.

The maximum use temperature is 250 ° C.

Along with the vacuum regulator 6-speed ON-OFF function and adapters from 200mm to 430mm is supplied to adjust the size of existing smoke channel.

In the case of fire have circular coupling can be provided indicating the outside diameter of the flue.

Finally, report that our vacuum cleaner has a 3 year warranty, as long as you followed the instructions for installation and use of equipment.

Technical data
Extraction rate (Max / Min): 2,522 / 282 m3 / h
Depression generated (Max / Min): 300/20 Pa
Gears: 6
Fire minimum height: 2m
Maximum temperature: 250 ° C
Power Consumption (Max / Min): 170W / 29W
voltage: 230V / I / 50Hz
Noise level (Max / Min): 59/38 dB (A)
square dimensions: 200 to 430mm
Circular section: Ø125 to Ø400mm
Dimensions (Width / Depth / Height): 430x430x600mm
Weight: 22 kg

Constructive details
- Hat and dark copper base.
- Single-phase motor IP 55 170W.
- Propellers galvanized steel.
- Protective mesh anti birds.
- Adjustable 200mm to 430mm adapter.
- ON-OFF controller with 6-speed speed.
- Upper cap anti rain and wind.
- 3 year warranty.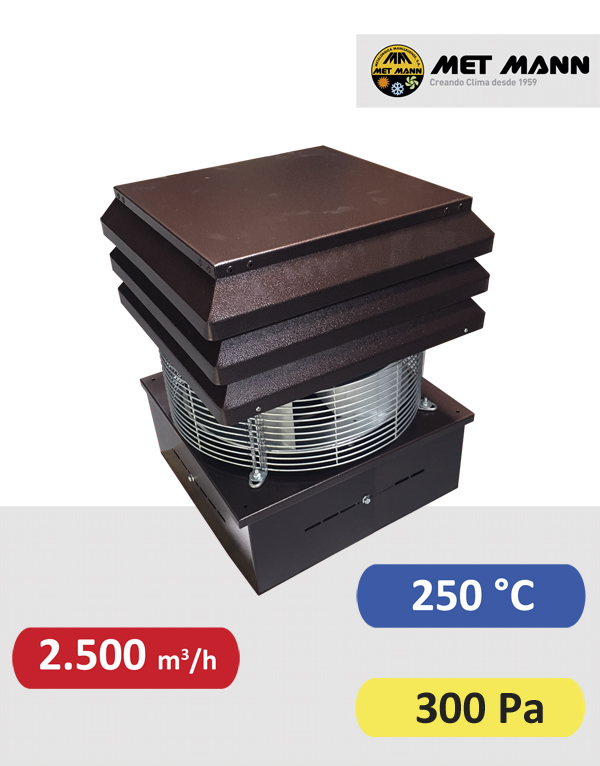 For more information and trading conditions call Tel. (+34) 93 851 15 99
Download PDF Catalog
Request information