Smoke extractor for chimneys

The ASPIRO MANN
smoke aspirator
is designed for the extraction of smoke in chimneys that do not have a correct depression and cause the smoke to enter the interior of the house.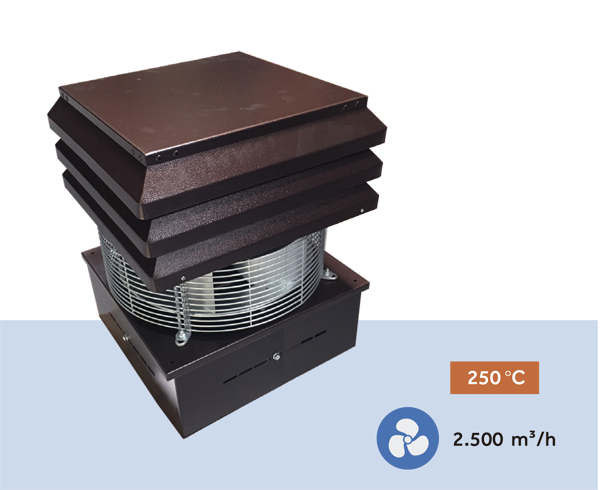 The installation of the vacuum cleaner must be on deck and the minimum height recommended with respect to the base of the fire must be 2m.
The maximum temperature of use is 250║C and the maximum depression generated is from 20Pa to 300Pa depending on the speed of use.
Along with the vacuum cleaner, a regulator of up to 6 speeds with ON / OFF switch and an adapter for chimneys from 200mm to 430mm wide is supplied as standard.
In the case that your chimney is circular, we can supply the corresponding adapter.
- Top hat anti rain and wind painted in dark copper color.
- 170W IP 55 single-phase motor.
- Chimney adapters in galvanized steel.
- Propellers in galvanized steel.
- Anti bird protection mesh.
- Adjustable adapter from 200mm to 430mm.
- ON-OFF electrical panel with 6 speeds.
- 3 year warranty
- Air flow from 282 m3/h to 2,522 m3/h
- Depression generated from 20 Pa to 300 Pa
- 6 speeds
- Minimum installation height with respect to the base of the fire: 2 m
- Maximum working temperature: 250 ║C
- Square chimney dimensions: 200mm to 430mm
- Circular chimney dimensions: 125mm to 400mm in diameter
- Sound level: 38 dB to 58 dB (A)
- Dimensions: 430x430x600mm
- Weight: 22 kg
Installation example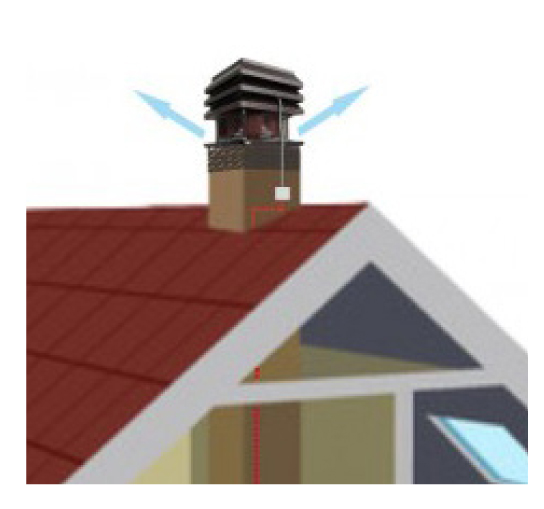 Speed regulator with ON/OFF function

Data sheet
More information on Tel. +34 93 851 15 99