Hot air air heaters with water batteries are ideal for heating all types of commercial, industrial or agricultural premises.

The water produced by a boiler passes through the internal battery of the air heater and thanks to the built-in fan (axial or centrifugal) drives hot air into the area to be heated.

Axial fan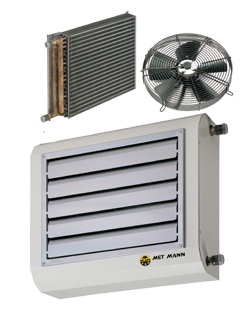 Centrifugal fan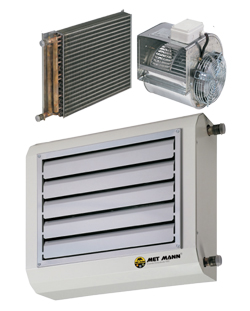 The range is made up of 5 sizes that can provide heating powers from 20kW to 106kW and an air flow of 1,758 m3 / h to 8,875 m3 / h.
We have all kinds of mounting and control accessories for proper installation.

Main features:

- Heat output from 20.88 to 106.4 kW.
- Air flow from 1,758 m3 / h to 8,875 m3 / h.
- Axial or centrifugal fan to channel the air.
- Water battery for heating.
- Wide range of models, versions and accessories.
- Hydraulic connections on the left or right hand side.
- Quick installation thanks to the variety of supports.
- Different types of air diffusion grilles.
- Possibility of supply in stainless steel.
- Wide range of controls and regulation systems.


More information on Tel. +34 93 851 15 99
Download PDF Catalog
Request information