Heating for open spaces with butane or propane gas without the need for electric current





The GW gas heater is used in open spaces where there is no power supply.

The fuel used can be butane gas or propane gas that feed the burner located inside the equipment, the heat produced inside is dissipated from the top by natural convection.

Its use is especially valued in the construction sector, street markets, ventilated industrial buildings or any type of activity in open or ventilated spaces, where a heating system is required without the need of electric current.

Its operation is based on providing a flame inside its combustion chamber causing a hot air outlet mixed with the combustion gases.

It has a gas regulator to adjust the heat output from 15 to 31 kW, a manual ignition control and an anti-fall safety system that cuts off the gas supply by losing its natural position.

Example of installation in construction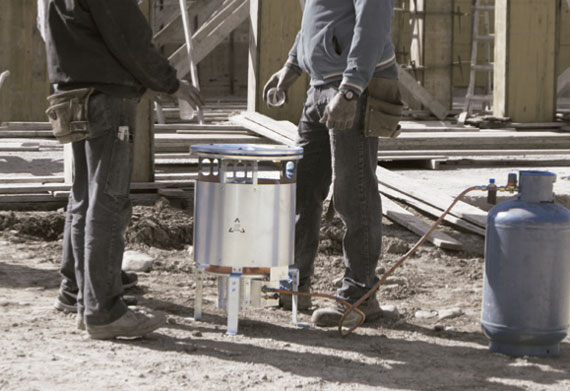 Constructive details

- Integrated gas burner
- Manual ignition control
- 5 meter gas connection tube kit
- Pressure reducer
- Security valve
- Adjustable pressure reducer from 0.4 to 1.5 bar
- Support legs
- Anti fall safety device
Technical data

Heat output: 15 to 31 kW
Yield: 100%
Consumption: 1.0 - 2.1 kg / h
Pressure: 0.4 - 1.5 bar
Dimensions: 528x528x676mm
Weight: 17 kg
For more information call Tel. +34 93 851 15 99

Download PDF Catalog
Request information