VIS 2000 Industrial Air Curtains
Industrial air curtains are special devices to prevent cold or hot air from entering the doors of access to industrial premises or even to prevent the entry of flying insects.
Its use provides significant energy savings in air conditioning systems, avoiding 80% of heat loss and its payback is usually less than one season.
During the winter season, they are used to help heat the room, in addition to creating an invisible air curtain that prevents cold air from entering. In summer, only fans work to preserve the air conditioning of the premises, in addition to preventing the entry of flying insects.

Characteristics

- Exterior structure in white lacquered steel
- German made external rotor fans
- 18 or 36 kW electrical resistors
- Remote control with room thermostat, speed selector, electric resistance selector, delay in disconnecting the fans for proper cooling.
- Possibility that the curtain can be controlled by an external contact (for example, a limit switch that indicates the opening of a door).
Up to 5m high

Horizontal or vertical installation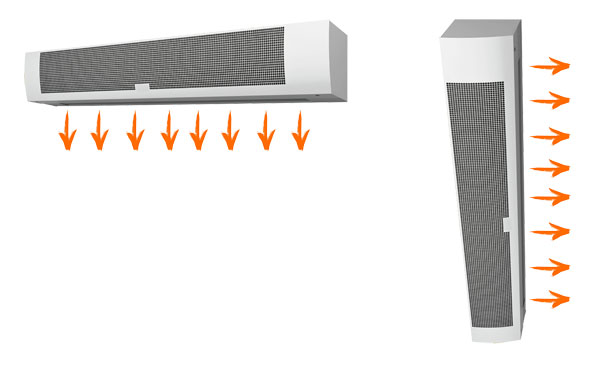 Remote control


Technical data


More information on Tel. (+34) 93 851 15 99