Domestic hot air heating with diesel operation from 14 to 33 kW.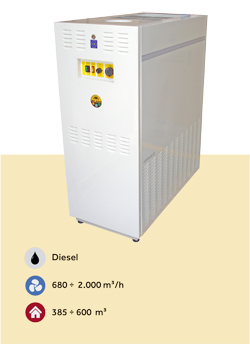 Our domestic hot air heating equipment with diesel operation is a fast and efficient system for heating domestic, commercial or small workshops.
Main features:
- Fully compact and robust equipment.
- Very quiet operation thanks to the soundproofing of the burner cabin.
- 3 speed centrifugal fans.
- Yield greater than 90%.
- External finish in oven-dried polyester paint.
- Thermal insulation by means of an air chamber and / or fiberglass.
- Air intake filters included to avoid spreading dust in the area to be heated.
- Electrical panel with room thermostat included.
- Possibility of applying a duct network for air distribution in other units.
Fuels Supported:
- Diesel oil.
Available powers:
14 to 33 kW
Airflow:
680 to 2,000 m3 / h
Heating capacity:
385 to 600 m3
Applications:
Domestic, commercial or small workshops.
More information on Tel. +34 93 851 15 99
Download PDF Catalog
Request information