MET MANN has its factory and headquarters in the town of Manlleu, some 70 km from Barcelona, and has facilities of 6,000 m2 where all its activities are carried out.
MET MANN has a production department made up of the best professionals in the sector, whose function is to supervise all the manufacturing processes, as well as to guarantee the correct operation of the equipment.
Finishing Section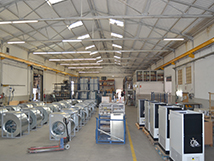 This section is responsible for the final assembly of the equipment, carrying out all the quality controls determined by MET MANN.
Punching Section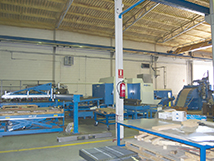 Section responsible for punching sheet metal parts in carbon steel, stainless steel and aluminium with automatic unloading system.
Technical Office
The R&D&I department has state-of-the-art computer-assisted drawing, calculation and simulation programmes to assist in the development of new products and the application of continuous improvements.
In our testing laboratory, the most demanding tests are carried out to validate the new products developed.
The policy of the company's R&D&I department is to work day by day on continuous innovation in order to offer our customers the best products. The efficient work of all the members of our technical office makes it possible for the MET MANN product range to be the most complete on the market, offering solutions for all types of installations, whatever their activity.
Folding section
Section responsible for folding the parts. It consists of a robot that automatically bends the parts and intelligently unloads them. There are manual bending machines, tube bending machines, spot welding machines and fusion welding machines.
Welding section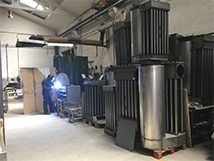 This section is in charge of welding chassis, combustion furnaces, etc. After each job, an inspection is carried out to ensure the correct welding of each of the elements.
Receiving and dispatch warehouse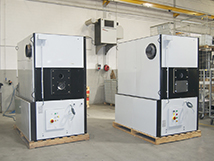 All products are identified and located so that the logistics and dispatch is as quick as possible.
Training Room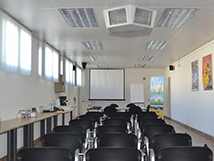 Classroom for commercial meetings and formations of our entire range of products.
MET MANN controls each and every one of the processes involved in the manufacture and marketing of air conditioning, ventilation and air treatment equipment.
The aim is to be an integral and completely efficient supplier, which leads to an increase in our level of competitiveness.In order to maintain control in each of the processes, MET MANN's departments are divided into:
· National Sales Dept. · Export Department · Accounting Dept. · Administration Dept.
· Purchasing Dept. · Quality Dept. · Post-sales Service · Management