High temperature electric heater for pest control and drying processes where equipment that provides hot air at high temperature is required

Our high temperature electric heater model KILL MANN is a device designed and manufactured for the control of pests and drying processes where hot air is required at high temperature.

The electric heater can be placed inside or outside the space that we want to disinfect or dry. The hot air will go to the room repairing heat evenly in every corner where insects can be found.

The heat sensitive material should be removed from the room as the temperatures reached can damage them.

The insects will die at a temperature of 48 ° C for 150 minutes but if we increase the temperature to 55 ° C for 60 minutes it will cause the elimination of the pest in all its stages (egg, larva, chrysalis, fully developed insect) by destroying the proteins of the body, a decisive factor to successfully eliminate the plague.

The elimination of insects and parasites with heat depends on the size of the room, the insulation and the ambient temperature. Therefore, the heating must be individually adapted in order to achieve the required temperature permanently during the necessary period. Otherwise, there is a threat that the parasites will develop again.

If as an example we apply this treatment in wood, the temperature of the core of the wood of beams and boards must be exposed for at least one hour at a temperature of 55 ° C. To achieve these conditions, the equipment must be maintained for a period of 8-12 hours.
The extermination of pests with heat treatment acts at all stages of development: from egg to larva, passing through chrysalis to adult insects.

Electric heater with duct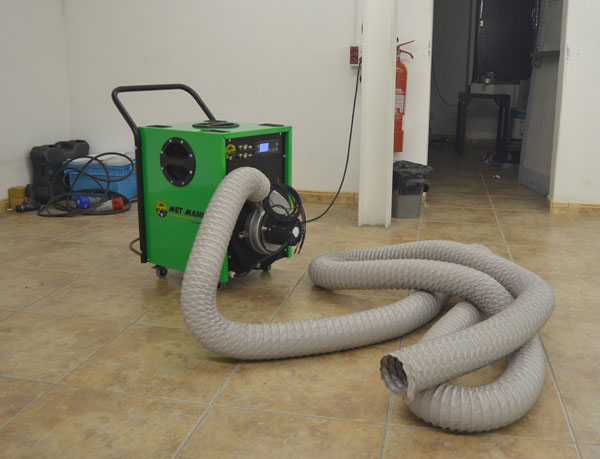 The applied technology allows to obtain the following flows and thermal jumps:

Flow Thermal jump

440 m3/h 90 ēC
305 m3/h 139 ēC
215 m3/h 212 ēC
The equipment is fully portable and can operate with single-phase (2 lines) or three-phase (1 line) voltage.
The electronic control incorporates a PID algorithm that manages the 12 powers assigned to the equipment, obtaining significant energy savings by adapting to the required power according to the requested temperature and detected by up to 4 probes.
The control can also manage the fan speed, delay in disconnection once the setpoint temperature has been reached, time programming and a completely configurable hidden menu to adapt the equipment to the needs of heating, drying process or simply ventilation.
Technical data

Minimum heat output: 1,600 W
Maximum heat output: 7,600 W
Minimum air flow: 215 m3/h
Maximum air flow: 440 m3/h
Electric fan power: 63 W
Electric voltage: 230V / I / 50Hz (2 lines) - 400V / III / 50Hz (1 line)
Dimensions: 474x807x784mm
Weight: 35 kg
Applications:

Low and high temperature drying processes, food dehydration, upholstery drying, site drying, pest control, etc.

More information on Tel. +34 93 85 15 99

Download PDF Catalog
Download Manual PDF
Request information