Hot air fan heaters with water coil (20 to 106 kW) - ATR

The hot air heaters with hot water coil are ideal for heating all types of commercial, industrial or agricultural premises where a flow of hot air is required to heat different areas of the premises to be heated.
The hot water must be produced by a diesel, gas or biomass boiler. The hot water, by means of a circulation pump, passes through the interior of the heating coil of the air heater and the heat transfer is carried out by the air fan of the air heater.
The fan can be axial or centrifugal, the axial type is used for direct dissolution and the centrifugal fan allows a network of ducts to be applied in addition to having a greater reach.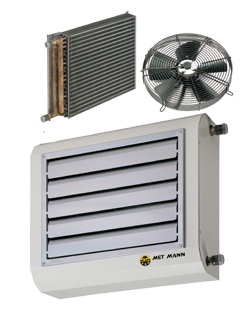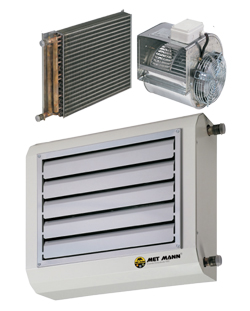 The range is made up of 5 sizes that can provide calorific powers from 20kW to 106kW and an air flow from 1,650 m3 / h to 8,875 m3 / h.
We have all kinds of mounting and control accessories for proper installation.
Main features:
- Heating power from 20.88 to 106.4 kW.
- Air flow from 1,650 m3 / h to 8,875 m3 / h.
- Axial or centrifugal fan to channel the air.
- Water coil for heating.
- Wide range of models, versions and accessories.
- Hydraulic connections on the left or right hand.
- Quick installation thanks to the variety of supports.
- Different types of air diffusion grilles.
- Possibility of supply in stainless steel.
- Wide range of controls and regulation systems.
More information on Tel. +34 93 851 15 99
Download PDF Catalog
Request information