VIS-40-E – Industrial air curtain (with electrical resistance)
Industrial hot air curtain for doors from 4.5 m to 5.5 m high
Air flow (Max/Med/Min): 3500 / 2720 / 2220 m3/h
Electrical resistance: 9,000W
Sound level (Max/Med/Min): 61 / 54 / 49 dB (A)
Door height (Max/Med/Min): 5.5 / 5.0 / 4.5 m
Door width: 1.2 m
No. of speeds: 3
Electrical power (fan + resistance): 1600W + 9000W
Electrical voltage: 230V/I/50Hz
Weight: 40kg
3-speed centrifugal fan with protection grill.
Tilt-adjustable wall bracket.
Air diffuser in galvanized steel painted in white RAL 9002.
Electrical resistors made of aluminum.
Single-phase or three-phase voltage supply.
For wider doors, several units can be installed.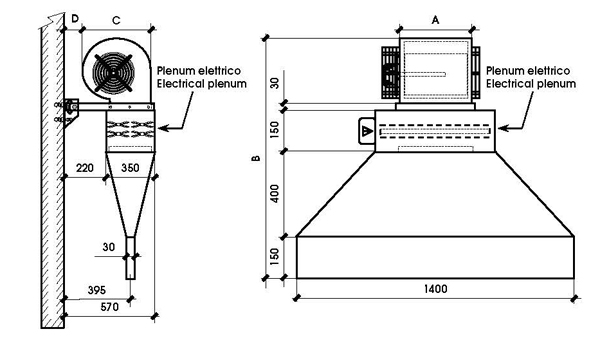 ¿Necesitas más información?
Rellena el siguiente formulario con tus datos de contacto. Nuestro equipo se encargará de resolver todas tus dudas.