DVW 90 – Ceiling fan of Ø900mm (2,3m to 4.0m high)
Ceiling fan Ø900mm for cooling in summer and recovering stratified heat in the roof in winter achieving energy savings of up to 25%. Fan of double direction of rotation and suitable for heights of installation of 2,3m to 4m of height.
Propeller diameter: 900mm

Number of propellers: 3

Installation height: 2.3m to 4.0m

Voltage: 230V / I / 50Hz

Power consumption: 50W (0.26A)

Maximum speed: 340 rpm

Height adjustment: 440 / 565mm

Sound level (4m): 35 dB (A)


Weight:5 kg
Robust equipment.

Encapsulated free maintenance and interference free motor.

Shock absorbers to avoid vibrations.

Simple installation, only the propellers should be installed.

Height adjustment of the support tube.

5 speed control by requesting the TSW 0.3 regulator (optional).

Reversible rotation of the propellers according to the electrical connection made or with DSEL 2 rotary selector (optional).


Minimum tension to turn the propellers 100W.



Fan selection graph: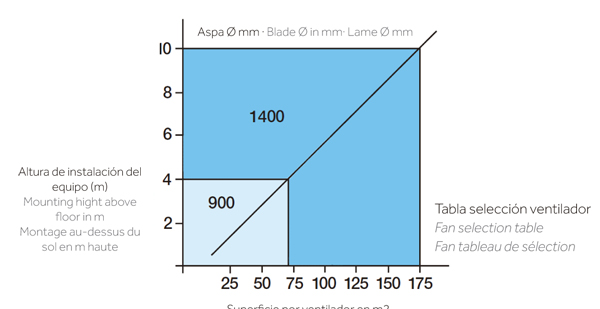 ¿Necesitas más información?
Rellena el siguiente formulario con tus datos de contacto. Nuestro equipo se encargará de resolver todas tus dudas.