WHAT ARE EVAPORATIVE AIRE COOLERS?
An efficient, ecological and economic conditioning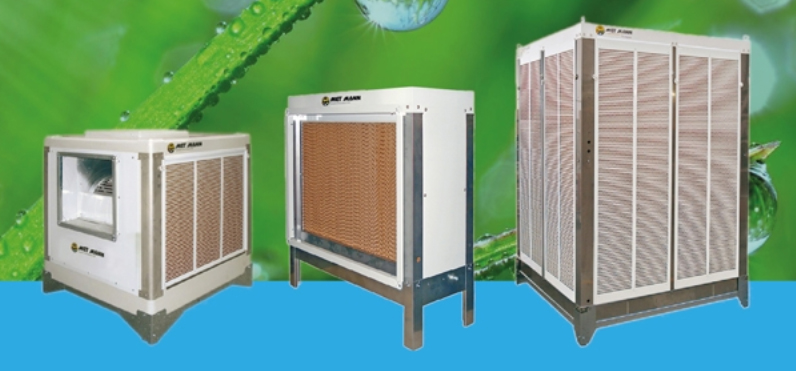 Evaporative air coolers are all natural conditioning system with low power consumption and easy installation.

MET MANN, as a manufacturer of evaporative air conditioners has a wide range of products developed airflows 5,500 m3/h to 63,000 m3/h.
Our condition of manufacturers allows us to adapt to the needs of our customers by offering solutions to all kinds of demanadas in air flow, pressure, inlet filters, ATEX motors, etc.
The operation of the evaporative coolers or evaporative air conditioners is based on a completely natural cooling without the use of refrigerant gases, its operation is to cool and add moisture from the outside air by means coolers panels made of treated cellulose, this treated air is sucked by a fan (inserted into the machine) that drives the treated air in the enclosure to acclimatize.
CALCULATION OF AN EVAPORATIVE COOLER
To determine the most suitable equipment should only determine m2 of surface to be treated with a maximum height of 4m and depending on the type of activity to determine the number of renovations to make.
Example:
Industrial building height of 30x20x5m whose activity is the manufacture of plastic.
m3 of the room: 30x20x4 (maximum height) = 2,400 m3
m3/h of unit/s: For this type of activity is recommended to renew the air 30-35 times with which we must multiply the 2,400 m3 x 30 = 72,000 m3 / h
Once we know the airflow to cool the premises we need can consult the catalog of evaporative coolers and choose the model or models required.

EXAMPLES OF APPLICATION
VOLATILE PRODUCTS STORES
the products are stored not volatilize, reducing the risk of fire, eliminating gases and odors.
STORES PHARMACEUTICALS
drugs are perfectly preserved.
APPLICATION OF PAINTINGS
With proper moisture levels in the application of spray paints or electrostatic processes it eliminates static electricity and dust ingress resulting reduces costly rejects. The result is a superior finish and reduction in the amount of paint used.
GRAPHIC ARTS
A temperature and moisture content will keep correct paper strength and make it less brittle. The dry paper is loaded too easily static electricity it difficult to handle. Ensuring a constant level of humidity during the printing process the paper properties are kept reducing the risk of errors and saving printing inks.
CASINOS
comfortable temperatures. fumes and odors are completely eliminated.
WINE CELLARS
Wine aging is not interrupted. Flower always remains on the surface. the wine cellar is not evaporate, nor becomes rough. Lower the temperature of the fermenting wine and ethers not volatilize, eliminating the gases produced.
MALLS
Very comfortable environment for customers and employees. Vegetables, fruits and other aliments good conservation. Disappearance of odors and insects. Wooden furniture not undergo alterations of any kind.
ELECTRONIC COMPONENTS AND COMPUTERS
Static electricity represents a threat for modern electronic circuits. A controlled level of humidity keep work areas without annoying static electricity discharges.
NIGHT CLUBS
Comfortable temperatures with rapid elimination of odors.
GARMENT FACTORIES
very comfortable temperatures with rapid and constant elimination of smokes and odors.
FACTORY AND PLASTICS PACKAGING
dust, particles and insects that may be embedded in them, having a room temperature for very comfortable staff is eliminated.
FLOUR MILLS
Dragging the grain it is done by air. This air, which is taken from the local, being too dry milling difficult. Also, the packaging paper bags they break due to lack of moisture in the air, two disadvantages are eliminated.
FOUNDRY
excessive heat and fumes in factories eliminated.
TIMBER INDUSTRY
Keeping the moisture content of wood at certain levels, it retains its stability and facilitates consistency in the handling process with minimal expense. high humidity levels represent the added benefit of reducing static electricity and dust, also creating an environment more comfortable work.
FOOD INDUSTRY
Fruits and vegetables keep their freshness and also their prices minimize weight loss due to high humidity in the atmosphere.
CHURCHES AND MUSEUMS
Maintaining constant moisture damage are prevented in valuables as paint or furniture caused by contractions usually in volume.
METALLURGICAL SECTOR
the heat produced by machines, ovens, etc. is eliminated and fumes and gases. There is an increase in productivity thanks to comfortable temperatures.
AGRICULTURAL SECTOR
losses are avoided by excess heat. Breeding and fattening in an ideal spot for animals without odors or insects environment. Solution to the problems created by excessive heat and increase performance turbines or combustion engines.
Our sales department is at your disposal to advise you of the best solution to your needs
Phone: +34 93 851 15 99