Over the last few years, different businesses oriented to the practice of indoor sports have emerged: paddle tennis centers, CrossFit boxes, gyms, etc. that join traditional indoor sports such as basketball, futsal or even swimming. These types of sports are usually practiced in spacious environments, pavilions or even renovated industrial buildings that they require air conditioning and ventilation support that guarantees optimal conditions for practicing any sport.
Therefore, we want to tell you about the advantages of our MET MANN evaporative equipment for air conditioning in sports halls, paddle tennis courts and sports halls.
Example evaporative air conditioning of more than one court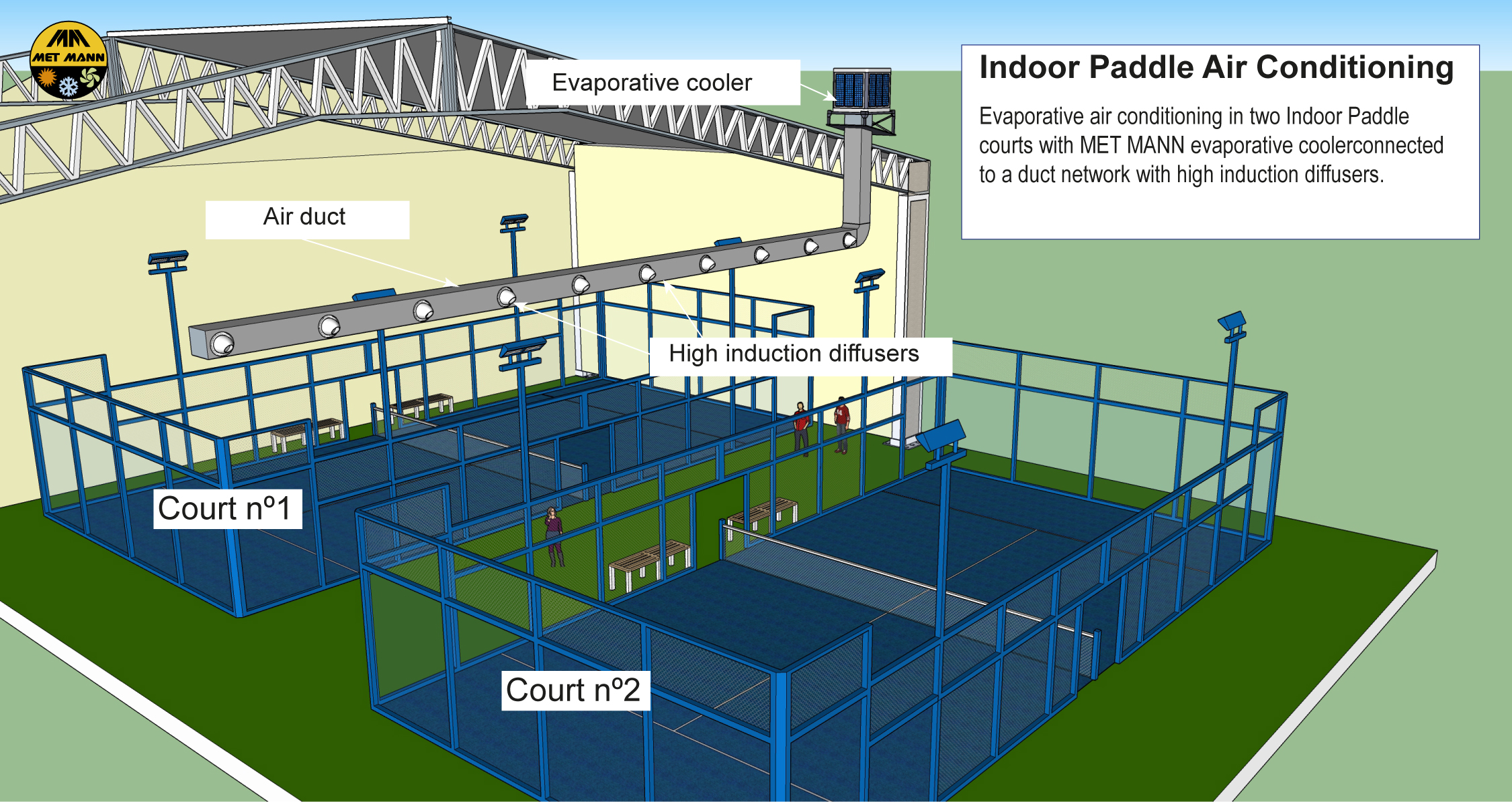 Example evaporative air conditioning in a paddle tennis court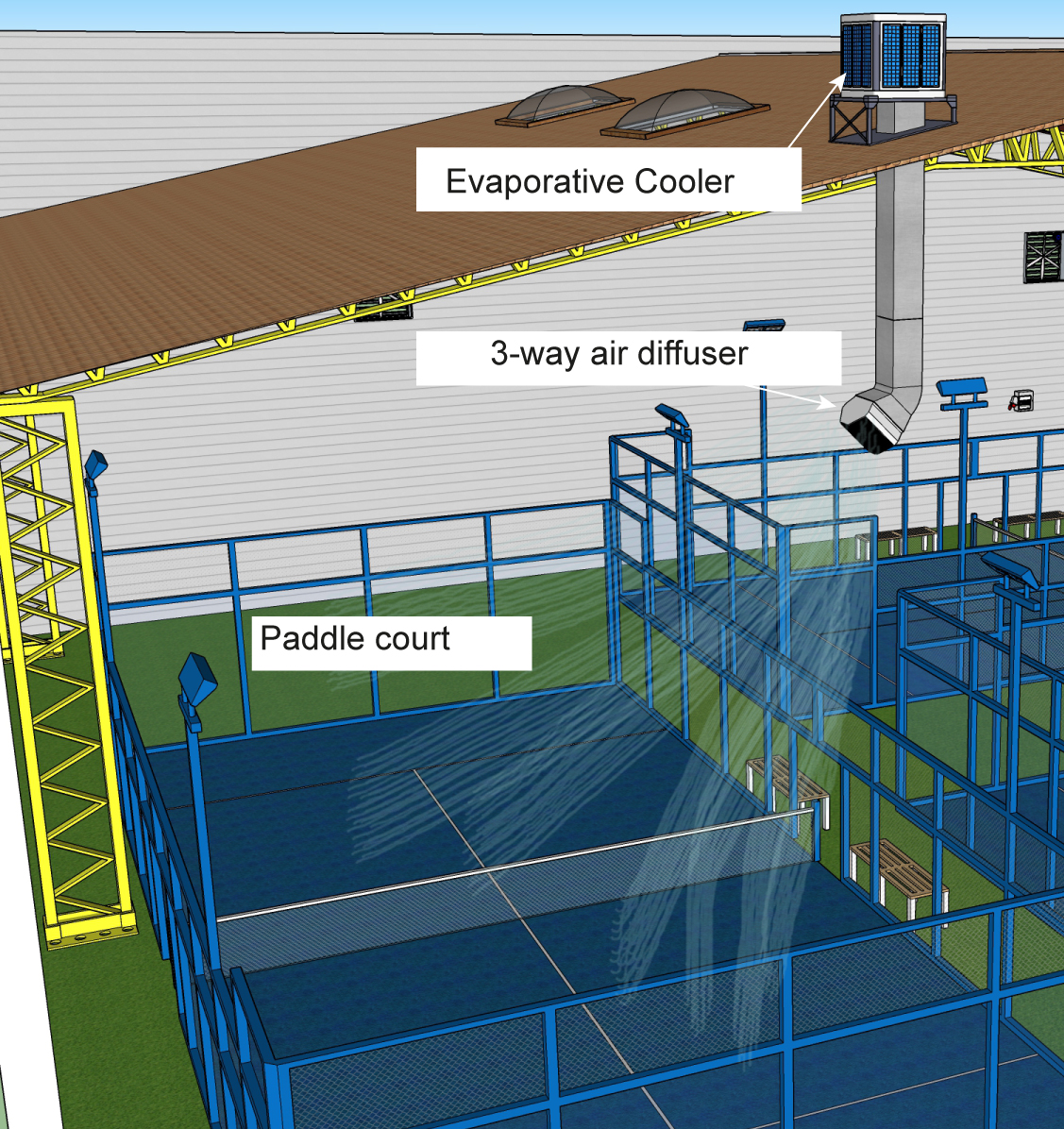 Why install an air conditioning system on indoor paddle tennis courts?
In recent years, paddle tennis has established itself as one of the most practiced sports in our country and therefore, numerous businesses have emerged that make indoor paddle tennis courts available to users.
The popularity of these sports venues is increasing since they allow you to practice sports at any time and without having to deal with the weather conditions. In many cases, large spaces are required to practice this sport and for this reason, many companies use reconditioned industrial warehouses to turn them into paddle tennis centers.
The problem on many occasions lies in the fact that the venues are not prepared for sports practice and lack an adequate ventilation or air conditioning system for sports activity.
This point is, without a doubt, differential since the comfort of the users is paramount so that their experience is the best possible. And for this, there is nothing better than a system that offers quality ventilation and air conditioning at low cost and that also respects the environment.
The answer to your ventilation problems in sports centers: Evaporative Air Conditioning
An evaporative air conditioning system can provide ideal air quality and temperature environmental conditions for your sports center. Evaporative air conditioners are efficient and safe equipment that use a natural system to generate temperature drops from 10ºC to 12ºC when temperatures are high and humidity is low.
What are the advantages of installing an evaporative air conditioning system for indoor paddle tennis courts and other sports venues? We summarize them below:
Optimize the energy consumption of your sports center
Energy savings and evaporative air conditioning are equivalent terms. This is because the technology used in our MET MANN evaporative coolers enables energy savings of up to 80%.
This is achieved thanks to its natural cooling technology by evaporation of water through an air fan and a pump that distributes the water in cooling panels in which the outside air passes, yielding part of the heat and increasing the degree of humidity of the environment.
Flexible installation suitable for your space
At MET MANN we design and manufacture our own evaporative air conditioning equipment, which allows us to adapt to any need or situation in the spaces where our air conditioners are installed.
The important thing in any professional air conditioning installation is that it adapts to your needs and does not force you to adapt to the positioning and configuration of the equipment. That is why, prior to installation, we carry out studies and measurements of the space to be air-conditioned to optimize and guarantee its efficiency.
The basic installation of an industrial evaporative conditioner consists of a water intake from the general network, a single-phase or three-phase electrical outlet (depending on the selected model) and a network of ducts to direct the treated air into the room to be heated.
As a bonus, installation costs are 25% cheaper than a traditional HVAC system.
MET MANN Evaporative Air Conditioning at the service of sport
In the main image of this post you will find one of our latest success stories with evaporative equipment in indoor paddle tennis facilities.
In this installation, carried out by one of our collaborating companies, 3 evaporative cooling units, ECO COOLER model, were put into operation with an air flow of 16,000m3 / h each with fresh air outlet at the top.
Energy savings for the sports center are assured, since the installation only requires 3,300W of electrical power.
As you have seen, the advantages of evaporative air conditioning for spaces dedicated to indoor sports are extensive and guarantee the health and comfort of your users. Undoubtedly, ensuring comfort and air quality in your sports facility is differential and will ensure that sports activity in your center is a luxury.
Invest in health and save on your energy bill while making your company greener and more responsible.
At MET MANN we are experts in generating climate since 1959. We are waiting for you to inform you without obligation, do not stay with doubts and contact us.